Long Beach Workplace Injury Attorney
When people suffer injuries at work, they often worry about getting into trouble or dealing with workers compensation entanglements and insurance claims, and may not realize there are other avenues of compensation and legal protections. A severe work injury can leave injured employees wondering how they will earn their wages or pay for medical treatment. After suffering a personal injury in the workplace in Long Beach, one of the best things you can do is to contact a qualified Long Beach workplace injury attorney from Harting Simkins & Ryan, LLP.
The U.S. Department of Labor manages workplace injury claims through the Occupational Safety and Health Administration (OSHA). OSHA not only fields complaints of workplace hazards and employer negligence, but also conducts regular studies to gauge the efficacy of safety protocols in various American industries. OSHA also outlines the laws protecting workers from undue punishments or adverse actions following workplace injuries. Years ago, an employer wouldn't think twice about firing an injured worker and simply hiring a replacement. Today, this is no longer acceptable.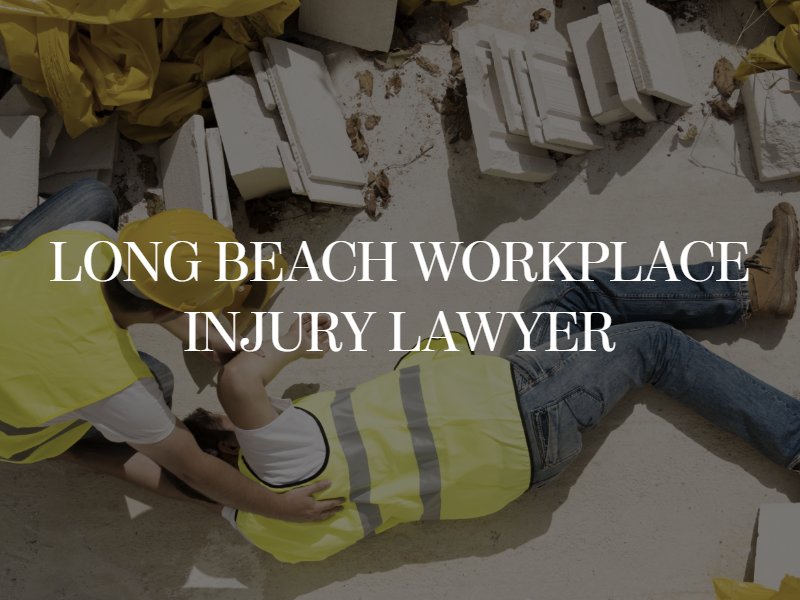 How a Long Beach Workplace Injury Lawyer Can Help
After sustaining an injury at work, your first priority should be to report the incident to your supervisor and immediately seeking medical attention, even for something that may seem minor. Attempting to "tough it out" may exacerbate your work injury or delay important medical treatment. Additionally, if you need to file a lawsuit later, a court may not look favorably at your delay in seeking medical care, assuming that you weren't injured enough to warrant it.
Once you've addressed your immediate medical concerns and your employer is aware of the situation, it's time to consider your next steps. Workers' compensation benefits may offer some relief after a workplace injury, but they rarely cover the full costs. A Long Beach workers' comp lawyer can help navigate the claims process for workers' compensation benefits, handle any concerns with insurance claim adjusters, and even help guide you through a personal injury lawsuit against a negligent employer or other defendants.
How California Workers' Compensation Works
After handling your immediate medical issues, you'll want to start the claims process for workers' compensation benefits. Filing for workers' compensation is fairly straightforward, and most employers must carry some type of workers' compensation insurance. California state laws dictate that every employer must carry a workers' compensation insurance policy, even if the business has only one employee.
After filing, workers' compensation benefits will generally cover your immediate medical expenses and lost wages from the time your workplace personal injury forced you to miss work. If your personal injuries are catastrophic injuries and/or involve long-term treatment or recovery takes a long time, workers' compensation benefits may not cover all of your costs.
What Types of Injuries are Covered Under Workers' Compensation?
The workers' compensation system in California is designed to help employees secure benefits after sustaining a wide range of injuries throughout the state. This includes just about any type of physical injury that can occur at work, including the following:
Broken or dislocated bones

Severe sprains or strains

Lacerations or puncture wounds

Crush injuries or amputations

Internal organ damage or internal bleeding

Traumatic brain injuries

Spinal cord injuries

Concussions
In addition to these acute traumatic injuries that can occur, it is also important to point out that workers' compensation will cover repetitive motion and overuse injuries as well. Often, these injuries do not appear until long after a person has been on the job, and they occur because of repetitive motions required by job-related duties. These injuries can affect the back, joints, hands, wrists, forearms, shoulders, etc. 
Workers' comp will also cover various types of medical conditions that develop as a result of on-the-job exposure, so long as there is a strong link between the illness or disease and exposure in the workplace. Occupational illnesses vary widely but can include the following:
Respiratory disease is caused by hazardous toxins in the workplace 

HIV/AIDs, hepatitis, or other diseases, which are commonly associated with health care worker exposure 

Hearing and vision loss caused by exposure to hazardous workplace conditions 

Various types of cancers that can arise due to exposure to hazardous chemicals or particulates
Workplace Retaliation and Other Lawsuits
It's also vital for California workers to remember that employers may not retaliate against employees for filing workers' compensation claims. Some employers may be frustrated at increased premium rates for their workers' compensation insurance policies, and others may attempt to derail the claims process or look for reasons to fire the employee in an attempt to shift blame. These actions constitute retaliation, an illegal practice in the United States. A Long Beach workplace injury lawyer will be able to identify retaliation and pursue compensation accordingly.
If your employer created a dangerous hazard in the workplace that caused your injury, or failed to address a known hazard in a reasonable manner, you may need to file a personal injury lawsuit against the employer to cover the rest of your damages. A Long Beach workplace personal injury may involve permanent disability, vulnerability to other medical conditions, and diminished earning capacity.
Differences Between Workers' Comp and a Personal Injury Lawsuit
It is crucial to understand the difference between a workers' compensation claim and a personal injury lawsuit. 
In California, workers' compensation is considered a "no-fault" type of insurance system. This means that the injured worker will receive compensation for their injuries regardless of which party was at fault. Even if a worker is 100% responsible for causing their on-the-job injury, they will still be entitled to workers' compensation benefits. 
However, one of the caveats to this system is that an injured worker will typically not be able to file a personal injury lawsuit against their employer to recover their losses. In most situations, those who sustain workplace injuries or illnesses will only be able to recover workers' comp benefits. This means coverage of medical bills and a significant portion of lost wages. However, workers' comp does not provide pain and suffering damages. 
Personal injury lawsuits can typically be filed against parties who cause injuries due to their negligent or intentional actions. These cases are filed in civil court and allow injury victims to recover a myriad of damages, including medical bills, lost income, general household out-of-pocket expenses, property damage, as well as pain and suffering and emotional distress damages. 
Workplace injury victims will typically not be able to file personal injury lawsuits unless their injury was caused by a third party aside from their employer. 
Workers' Compensation Statistics
According to data available from the Bureau of Labor Statistics (BLS), we can see that there were 2.8 million total non-fatal injuries or illnesses reported across the country during the latest year. To further break this data down, we can see that the incidence rate of recordable incidents in private industries throughout the country was 2.8 cases per 100 workers. This rate has remained steady over the last few reporting years. 
Additionally, there were 888,220 total non-fatal injuries and illnesses reported that led to workers missing at least one day of work during that same reporting year. 
If we dig further into the data, we can see that the industries that pose the most risks for workers include the following:
Manufacturing 

Landscaping and lawn service 

Construction and extraction 

Iron and steel

Farming and ranching

Commercial drivers

Refuse and recyclable material collection

Roofers 

Aircraft pilots and flight engineers

Fishing industry

Loggers
What do I do After Suffering an Injury on the job?
There are various steps that individuals who sustain a work injury need to take to ensure that they receive the compensation they are entitled to. 
Seek medical care

. After sustaining an on-the-job injury, workers need to take steps very quickly to receive medical care. If the injury is severe, the injured worker should immediately proceed to the hospital or doctor. The most important thing for any person to remember is that the well-being of the injured worker is of the utmost importance at all times. In many cases, workers try to "power through" the pain and remain at work. This can lead to significant complications that otherwise would not have occurred. 

Report the injury

. Those who sustain on-the-job injuries in Oregon are required to give written notice to their employer within 90 days after the accident occurs. Electronic notice to an employer is sufficient for Oregon law. If a worker fails to provide notice to the employer within 90 days, they will still be allowed to file a claim within one year from the date of the injury if the employer had knowledge of the injury, or if the worker dies within 180 days of the injury (familial benefits). Additionally, a worker can have up to 180 days to file their claim if they had a good cause for the late notice. 

Continue all follow-up care

. It is crucial for injured workers to continue all follow-up care recommended by their treating physician. If an injured worker fails to follow any of the required treatment plans, this could result in them losing workers' compensation benefits. 

Work with an attorney

. If you or somebody you care about has been injured at work and are having trouble receiving your rightful benefits, you need to speak to a skilled workplace injury lawyer as soon as possible. A workplace injury attorney in Long Beach will be able to handle every aspect of your claim. If your workers' comp claim is denied, an attorney can help you handle the entire appeals process. Additionally, if a third-party injury lawsuit is a viable option, an attorney will be able to help you pursue that claim as well. 
Free Consultation with a Long Beach Workplace Injury Attorney
Contact the attorneys at the law firm of Harting Simkins & Ryan, LLP for a free case consultation about your workplace injury or wrongful death, and our team of Long Beach personal injury attorneys will help you maximize your recovery. Let our legal team leverage our resources, experience, and intimate knowledge of the law to navigate your workplace personal injury case to a successful result.