Long Beach Workplace Injury Attorney
When people suffer injuries at work, they often worry about getting into trouble or dealing with workers compensation entanglements and insurance claims, and may not realize there are other avenues of compensation and legal protections. A severe work injury can leave injured employees wondering how they will earn their wages or pay for medical treatment. After suffering a personal injury in the workplace in Long Beach, one of the best things you can do is to contact a qualified Long Beach workplace injury attorney from Harting Simkins & Ryan, LLP.
The U.S. Department of Labor manages workplace injury claims through the Occupational Safety and Health Administration (OSHA). OSHA not only fields complaints of workplace hazards and employer negligence, but also conducts regular studies to gauge the efficacy of safety protocols in various American industries. OSHA also outlines the laws protecting workers from undue punishments or adverse actions following workplace injuries. Years ago, an employer wouldn't think twice about firing an injured worker and simply hiring a replacement. Today, this is no longer acceptable.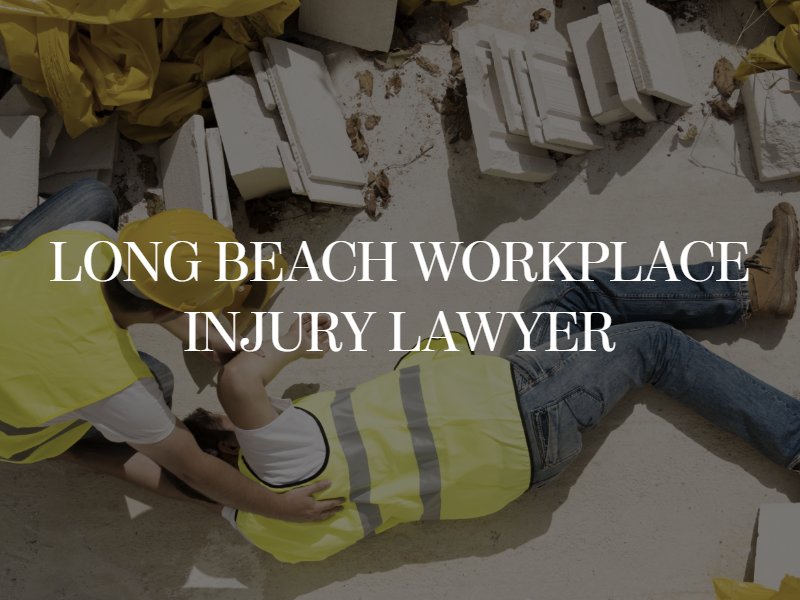 How a Long Beach Workplace Injury Lawyer Can Help
After sustaining an injury at work, your first priority should be to report the incident to your supervisor and immediately seeking medical attention, even for something that may seem minor. Attempting to "tough it out" may exacerbate your work injury or delay important medical treatment. Additionally, if you need to file a lawsuit later, a court may not look favorably at your delay in seeking medical care, assuming that you weren't injured enough to warrant it.
Once you've addressed your immediate medical concerns and your employer is aware of the situation, it's time to consider your next steps. Workers' compensation benefits may offer some relief after a workplace injury, but they rarely cover the full costs. A Long Beach workers' comp lawyer can help navigate the claims process for workers' compensation benefits, handle any concerns with insurance claim adjusters, and even help guide you through a personal injury lawsuit against a negligent employer or other defendants.
How California Workers' Compensation Works
After handling your immediate medical issues, you'll want to start the claims process for workers' compensation benefits. Filing for workers' compensation is fairly straightforward, and most employers must carry some type of workers' compensation insurance. California state laws dictate that every employer must carry a workers' compensation insurance policy, even if the business has only one employee.
After filing, workers' compensation benefits will generally cover your immediate medical expenses and lost wages from the time your workplace personal injury forced you to miss work. If your personal injuries are catastrophic injuries and/or involve long-term treatment or recovery takes a long time, workers' compensation benefits may not cover all of your costs.
Workplace Retaliation and Other Lawsuits
It's also vital for California workers to remember that employers may not retaliate against employees for filing workers' compensation claims. Some employers may be frustrated at increased premium rates for their workers' compensation insurance policies, and others may attempt to derail the claims process or look for reasons to fire the employee in an attempt to shift blame. These actions constitute retaliation, an illegal practice in the United States. A Long Beach workplace injury lawyer will be able to identify retaliation and pursue compensation accordingly.
If your employer created a dangerous hazard in the workplace that caused your injury, or failed to address a known hazard in a reasonable manner, you may need to file a personal injury lawsuit against the employer to cover the rest of your damages. A Long Beach workplace personal injury may involve permanent disability, vulnerability to other medical conditions, and diminished earning capacity.
Free Consultation with a Long Beach Workplace Injury Attorney
Contact the attorneys at the law firm of Harting Simkins & Ryan, LLP for a free case consultation about your workplace injury or wrongful death, and our team of Long Beach personal injury attorneys will help you maximize your recovery. Let our legal team leverage our resources, experience, and intimate knowledge of the law to navigate your workplace personal injury case to a successful result.