Long Beach Dangerous/Defective Product Attorney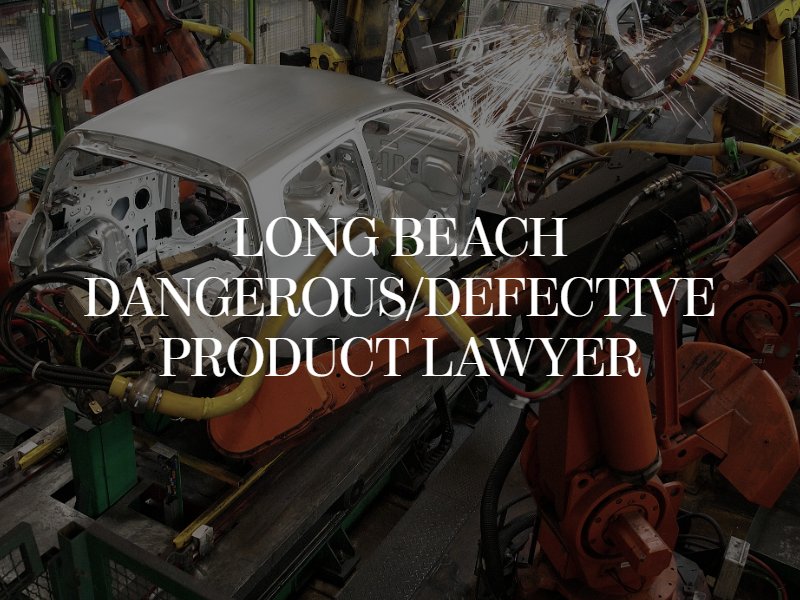 When you suffer an injury from a product, you may have a defective product liability claim if you used the item as intended and followed all applicable safety instructions from the manufacturer. Product manufacturers must ensure their products are safe for use, explain all associated risks and hazards of normal use of the products to their customers, and provide instructions for proper use of the products. Failing to meet any of these requirements leaves manufacturers liable for injuries from dangerous or defective products.
At Harting Simkins & Ryan, LLP, we represent people who suffer needlessly at the hands of careless manufacturers. Whether you were injured in car accident in Long Beach caused by a defective car part or experienced complications with a dangerous drug or medical device, a Long Beach product liability attorney at our firm will fight for your right to justice and fair compensation.
Types of Defective Product Liability Claims
Manufactured items may be defective in one of three ways:
Defective by design. There is a flaw in the design of the product, affecting every unit produced. This means that every unit has the potential to harm customers, and manufacturers will typically issue recalls on such products.
Defective manufacturing. There was some problem during the production process, such as with materials, assembly, or a process that created the defect. Only certain units or lots of units may be affected, and the manufacturer will flag the affected units and issue a recall.
Inaccurate marketing. The manufacturer misrepresented the product or failed to inform end users of safety issues with the product. Manufacturers must include instructions for use, safety warnings, and they must accurately report products' intended uses and capabilities.
If a product satisfies one or more of these criteria, the product is defective and dangerous, and you can file a product liability claim against the responsible party. In defective product lawsuits, the defendant may not be the original manufacturer. Any party in the supply chain from raw materials vendors, fabricators, assemblers, distributors, to retailers may be defendants in product liability lawsuits and a qualified Long Beach personal injury attorney will be able to help you determine who can be held liable for your injuries.
Filing a Claim and Pursuing Damages
Once you've suffered an injury from a dangerous or defective product, it's important to keep track of all your communications and expenses regarding the incident. Once you file a lawsuit, your Long Beach product liability lawyer will advise you about which types of compensation you should pursue, and these can include:
Medical expenses. If the product caused an illness or injury, you can sue for compensation for your hospital bills, the costs of any necessary ongoing treatments or subsequent procedures, rehabilitation and medical appliance costs, prescription costs, and any other expenses related to your medical care.
Lost income. If the product's effects on you forced you to stay home from work for an extended time, you can sue for the wages you would have reasonably expected to earn during that time. Additionally, if a product permanently disables you or otherwise diminishes your future earning capacity, you can sue for the money you would have expected to earn in the future.
Property damage. If the product damaged any personal property, such as an electronic device exploding and damaging other belongings, you can sue for the costs of repairing or replacing those items.
Pain and suffering. If your injuries were significant and entailed extreme pain, expert witnesses can testify to these facts and show the court the extent of the suffering you endured because of the product. A judge will use this testimony to determine an appropriate amount of compensation.
When product manufacturers receive claims of dangerous or defective products, they typically launch internal investigations to assess the validity of these claims and their effects on the company. In some cases, manufacturers will weigh the projected costs of future lawsuits against the cost of a recall and act accordingly. However, it's important for injured consumers to hold these companies accountable for releasing dangerous products.
Free Consultation with a Long Beach Product Liability Attorney
At Harting Simkins & Ryan, LLP, we believe in protecting the rights of consumers. When Southern California residents suffer injuries and damages from dangerous or defective products, they need legal representation they can depend on to reach successful results. Contact us today if you have any questions about product liability laws, or if you would like to schedule a consultation to discuss your case with one of our lawyers.