Long Beach Product Liability Attorney
If you have suffered an injury or illness in Long Beach due to a defective product such as a medical device, it's important you speak with a Long Beach product liability lawyer to better understand your rights and protections under the law. Product manufacturers face significant legal ramifications for the effects of defective or dangerous products. Product manufacturers have a legal obligation to their customers. They must ensure their products perform as advertised and present no potential risks to the end user through normal use.
The damages in a product liability lawsuit often resemble those of personal injury lawsuits. Injured plaintiffs stand to recover their medical expenses, lost income, property damage costs, as well as compensation for their pain and suffering in some product liability cases. Additionally, if a defective product leaves a victim with a permanent disability or diminished earning capacity, the court may award additional compensation to help offset these expenses.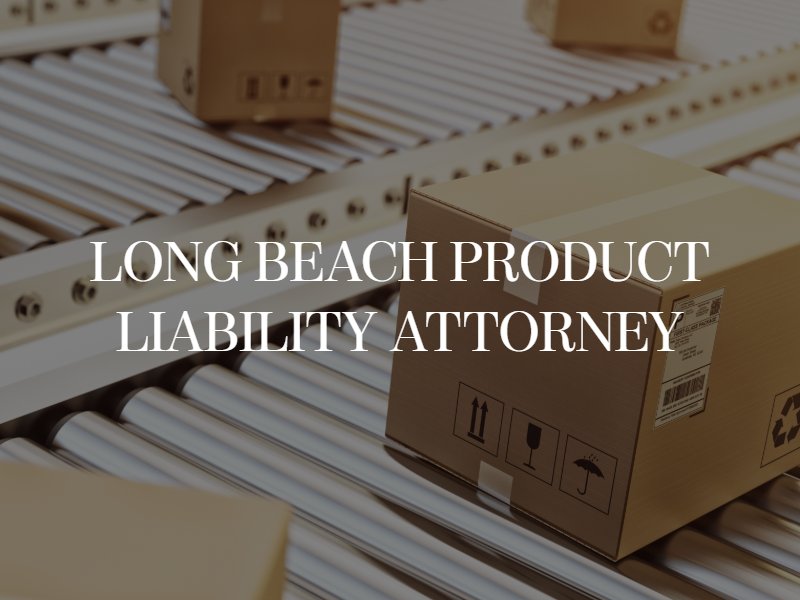 How Can a Long Beach Product Liability Lawyer Help?
Product liability lawsuits often turn into complex affairs, and most manufacturing companies keep legal teams on retainer. It's important for injured consumers to retain qualified legal representation to succeed in their product liability claims. At the law firm of Harting Simkins & Ryan, LLP, our product liability attorneys want to help our clients in the Long Beach, CA area recover the damages they rightfully deserve after suffering serious injuries from defective products.
Proving Liability for a Defective Product
One of the most important things to remember about product liability lawsuits is that the manufacturer may not be the only defendant or a defendant at all for a defective product lawsuit. Depending on the nature of the injury or wrongful death and the element of the product that caused it, you may have several defendants in your personal injury case. Generally, anyone along the supply chain from raw materials suppliers to assemblers to retailers may be defendants in a product liability lawsuit but a seasoned Long Beach personal injury attorney in Los Angeles, CA can help you identify the party or parties that can be held liable for your injuries.
Any person who could foreseeably prevent an injury from a defective product could potentially face lawsuits from personal injuries, making it crucial for the producers and purveyors of consumer products to ensure the safety of those products. Strict liability applies in most of these cases, meaning that manufacturing the product or preparing it for customer purchase must be part of the defendant's regular course of business. For example, a person who sells a defectively manufactured used lawnmower at a yard sale wouldn't technically be liable for any personal injuries the product caused, but the manufacturer or the retailer who sold it could be liable.
Types of Product Defects
Generally, defective products are faulty in one of three possible ways:
Defective production. Some flaw in the production or assembly process created the defect. This type of defect may only affect certain lots of units or individual units. If caught soon enough, the manufacturer can recall the affected units and replace them before they reach customers.
Defective design. There is a flaw in the design of the product, effectively rendering every unit defective. In some liability cases, companies will weigh the cost of potential future lawsuits against the cost of conducting a recall. In general, manufacturers will quickly discontinue defectively designed products and manufacturers will issue recalls for the potentially dangerous items.
Defective or inaccurate marketing. The product did not contain adequate warnings about the risks associated with normal, intended use of the product. Manufacturers must supply applicable safety warnings when products are inherently dangerous during normal use.
In personal injury cases involving strict liability, a plaintiff and his or her Long Beach product liability attorney do not need to prove that a product manufacturer was negligent to secure damages – only that the product is defective. In some product liability cases, defects would not exist unless someone in the chain of production was negligent in some way. In these situations, the burden of proof essentially shifts to the defendant, and the defendant must then prove that their actions were not negligent. Some products are simply dangerous by nature, and the issue of assumed risk comes into play. Speak with a Long Bach product liability lawyer to learn more about your unique case.
Contact a Long Beach Product Liability Attorney
If you have questions about California's product liability laws or wish to discuss a case, call our Long Beach law firm to schedule a free consultation. Our Long Beach product liability lawyers proudly help injured victims of defective products recover the compensation they deserve in Southern California.