Long Beach Slip and Fall Attorney
When Southern California residents suffer slip and fall injuries because of negligent property owners, they need to know their legal options. A knowledgeable Long Beach slip and fall lawyer at Harting Simkins & Ryan, LLP can help you understand the specifics of your case and advise you on how to best move forward with securing fair compensation for your injuries. A slip and fall accident may sound relatively innocuous, but some people suffer significant injuries from these accidents, especially older individuals.
Many personal injury lawsuits touch on the concept of premises liability. Whenever a person suffers an injury due to an unsafe condition on another person's property, the property owner may be liable for the damages. Slip and fall cases are among the most common injuries in America, and these accidents are also responsible for over one million emergency room visits each year.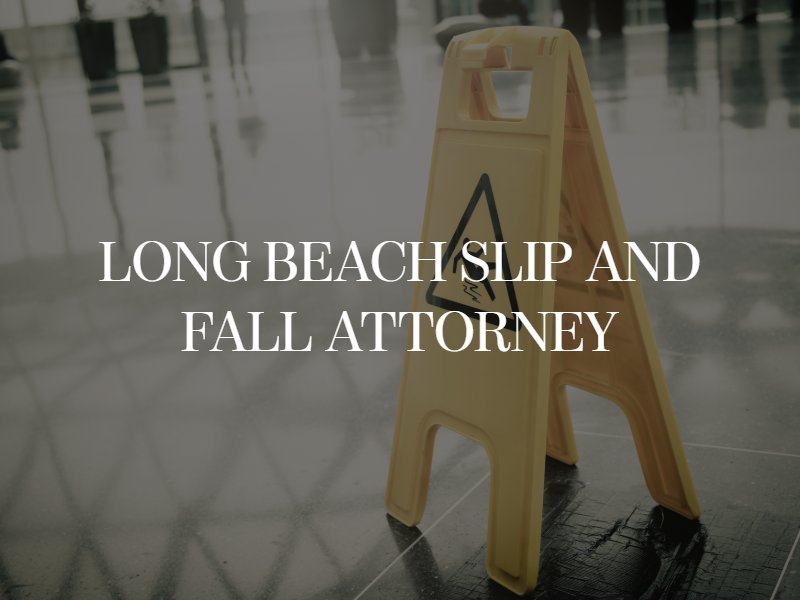 How Can a Long Beach Slip and Fall Lawyer Help?
Regardless of where your slip and fall accident took place, whether on private property or in a public location, we encourage you to reach out to an attorney as soon as possible. A skilled Long Beach slip and fall accident lawyer will work diligently to recover full compensation for your losses. Their role will be multifaceted and include:
Conducting a complete investigation into the incident and gathering the evidence needed to prove liability.
Ensuring you obtain a full medical evaluation by a trusted professional.
Enlisting assistance from financial and economic experts to adequately calculate your total losses.
Engaging in vigorous negotiations with insurance carriers and legal teams to recover the compensation you need.
Fully preparing your slip and fall accident claim for trial if necessary.
Establishing Liability in Slip and Fall Accidents
No one can reasonably expect property owners to account for every possible hazard on their premises, so the concept of "foreseeability" comes into play very often for slip and fall lawsuits. For a property owner to bear legal accountability for an injury suffered on his or her property, he or she must meet one of the following criteria:
The property owner either created the hazard or allowed it to remain a hazard after recognizing it.
The property owner made inadequate effort to protect visitors from the hazard or warn them about its existence.
The property owner failed to recognize a dangerous condition that another reasonable property owner would have noticed.
It's also vital to remember that property owners only have a duty to protect lawful visitors to their properties. Trespassers, or anyone on the property illegally, may not claim damages when they suffer injuries from a fall accident. The only exception to this is trespassing children. Children are not held to the same standards as adults, so property owners who live near children must account for the possibility of a child wandering onto the property and take appropriate precautions.
In legal terms, property owners must protect invitees and licensees. Invitees typically include friends, neighbors, and relatives who have either implied or expressed permission to be on the property. Licensees are typically business people or contractors who have permission to enter the property for their own purposes. If you have any questions regarding how to prove fault in a premises liability case, consult an experienced personal injury attorney in Long Beach.
Compensation Available for a Slip and Fall in Long Beach
In the aftermath of sustaining a slip and fall injury in Long Beach, victims may be entitled to various types of compensation if the incident was caused by the negligent actions of another party. Negligence, in these circumstances, is typically defined by the property owner knowing about a hazardous slip and fall condition and failing to take steps to remedy the situation promptly.
At Harting Simkins & Ryan, LLP, our Long Beach slip and fall accident attorneys work diligently to recover both economic and non-economic losses on behalf of our clients. This includes, but is not limited to, the following:
Any emergency medical expenses
Ongoing follow up medical visits
Physical therapy and rehabilitation
Medical devices
Prescription medications
Lost wages if a victim cannot work
Property damage expenses (broken phones, computers, etc.)
Pain and suffering damages
Loss of quality of life damages
How Much is a Slip and Fall Case Worth?
There is no exact amount of compensation paid for slip and fall injury claim in Long Beach. However, there are going to be several factors that your attorney, as well as medical and financial experts, will examine to help adequately calculate total expected losses. There are several factors that can influence slip and fall accident compensation amounts. These factors include:
The severity of the slip and fall injury

The amount of work missed due to the incident

The length of the recovery time

Whether or not there are any disabilities resulting from the incident

The level at which the injury affects the person's life

Whether or not there was any shared fault for the incident
After examining all of these factors and consulting with various experts, an attorney will "demand" a fair amount of compensation from the at-fault party. It is crucial to have your "ducks in a row," so to speak, when it comes to demand letters and negotiation, which is why we strongly encourage you to work with an attorney to ensure the best possible outcome.
How Long Does A Slip and Fall Case Take? 
There is no set time frame for how long a slip and fall accident case will take. Most Long Beach slip and fall accident claims are resolved through settlements with insurance carriers, which means the time frame is not as long as it could be. 
Most slip and fall accident claims could be resolved within a few weeks or a few months. In some cases, a settlement negotiation could take a year or more to resolve, but that is less likely. If fault is relatively clear and the other side does not push back, the slip and fall claim could be resolved relatively quickly. However, if there is any dispute over fault or how much compensation should be paid, the settlement negotiations could drag out for quite a while. 
In the event settlement negotiations with the insurance carrier or legal team do not result in a successful agreement, it may be necessary for the slip and fall accident victim to file a personal injury lawsuit against the other party. This puts the case into the civil court system, and the discovery process will begin. Slip and fall accident lawsuits could take a year or more before the case even reaches a jury. However, negotiations often continue while the evidence is being examined and while depositions are being taken. It is not uncommon for these claims to be resolved before a personal injury jury becomes necessary. If an agreement cannot be reached and a trial becomes necessary, it could be years before the slip and fall claim is finally resolved.
How Long Do I Have to File a Slip and Fall Claim?
Any individual injured in a slip and fall accident caused by the negligence of a property owner needs to be aware that they have a limited amount of time to file their claim. In California, the personal injury statute of limitations is two years from the date an injury occurs. This means a Long Beach slip and fall accident victim has a two-year window with which to file a lawsuit against the alleged negligent property owner. Failing to file a lawsuit within this time frame will mean the case gets dismissed by the court. The slip and fall accident victim will not be able to recover compensation.
In addition to this overall statute of limitations, please understand that any insurance carriers involved in the claim will also have deadlines in place. Failing to meet these insurance carrier deadlines could mean the claim gets delayed or denied altogether.
Common Causes of Slip and Fall Accidents
Slip and fall accidents occur in a wide variety of ways in and around the Long Beach area. Some of the most common causes of slip and fall incidents include wet or uneven walking surfaces. These hazards can occur in private residences, grocery stores, office buildings, construction workplaces, and any other area where individuals walk regularly. The most common hazards associated with walking surfaces include:
Loose floorboards
Loose floor mats
Worn out carpeting
Defective sidewalks
Poorly constructed stairs
Cluttered floor ways
Electrical cords across floor ways
Parking lot potholes
No "Wet Floor" sign present after mopping or waxing
Spills of food or drink
Common Slip and Fall Injuries
Slip and fall accidents can lead to a range of injuries. In some cases, these injuries will be relatively minor, but there are times when slip and fall incidents can lead to severe trauma. Some of the most common injuries that individuals sustain as a result of a slip and fall injury include
Sprains and strains
Bruising and contusions
Concussions
Thankfully, individuals will typically be able to make a full recovery after sustaining these relatively minor injuries, but that does not mean that they will go without medical bills. Victims of minor slip and fall injuries should be able to recover compensation from the at-fault party.
In some situations, individuals sustain more severe injuries as a result of a slip and fall accident. Some of these injuries can include:
Fractured or dislocated bones
More severe traumatic brain injuries
Lacerations or puncture wounds
Fractured hip or pelvis
Elderly individuals are more likely to sustain severe injuries as a result of a slip and fall accident. Recovering from these injuries can take significant amounts of time and involve physical therapy and rehabilitation.
Protection for Property Owners
Property owners must exercise care when maintaining their properties. Regular maintenance and cleaning are great methods for limiting the chance of someone suffering an injury. Many slip and fall cases happen because of wet surfaces without adequate markings, cluttered walkways, poor lighting, structural instability, and other hazards that are generally avoidable with consistent, routine cleaning and inspection. Many property owners incur liability for slip and fall accidents simply because they waited too long to address an issue on the property.
Slip and Fall Cases on Government Property
Individuals who sustained slip and fall injuries while on government property in Long Beach or the surrounding areas need to be aware that there are additional challenges to filing lawsuits and recovering compensation. Typically, individuals have two years from the date an injury occurs to file a personal injury lawsuit against the alleged negligent property owner for a slip and fall claim. However, one of the biggest exceptions to the statute of limitations is related to government entities. If you have been injured on government property, you will need to file a "notice of claim" within his little as six months after the injury.
Typically, government entities and all government subdivisions are entitled to "immunity" from liability and lawsuits, meaning they can usually not be sued without express permission. In California, the "Tort Claims Act" only allows individuals to file lawsuits for certain types of personal injury claims. A slip and fall claim will likely be viable if the government had notice of the dangerous condition or in situations where the government is vicariously liable for the actions of a negligent employee.
Slip and fall accident claims against a government entity present additional challenges, and we strongly encourage you to work with an attorney who has handled these types of claims in the past.
How Much Does a Slip and Fall Attorney Cost?
It can be confusing to understand how you will afford legal assistance for your slip and fall injury claim in Long Beach. The reality is that legal help may not be as unaffordable as you think. Our team proudly handles slip and fall premises liability claims on a contingency fee basis. This means that we pay all of the fees and costs associated with the lawsuit while the case is ongoing. We only collect legal fees if we are able to recover compensation on behalf of our clients. If we do not win, our clients do not pay any legal fees at all. The total legal fees will equal an agreed-upon percentage of the final settlement toward a jury verdict.
Each individual slip and fall accident claim is different, and an attorney will examine your case and help you understand your best steps moving forward.
Winning Your Case with a Local Long Beach Slip and Fall Lawyer
Plaintiffs in Long Beach should bear in mind that California follows a pure comparative negligence rule. This means that plaintiffs may still recover damages even if they were partially at fault for their injury. In some states that follow comparative negligence, plaintiffs may only recover damages if they are less than 50% at fault for the injury. In California, plaintiffs may still recover damages even if they are 99% at fault.
One of the best steps you can take after suffering a slip and fall injury and addressing your medical needs is to speak with a reputable slip and fall attorney in Long Beach, CA. The slip and fall attorneys at Harting Simkins & Ryan, LLP law firm want our clients to maximize their lawsuit awards, and we want to ensure that negligent property owners pay for the damages they cause. We will help you with all aspect of your case, including speaking with the insurance company, collecting evidence of dangerous conditions, and fighting for maximum compensation. If you wish to discuss a case, contact our office and schedule a free consultation with one of our attorneys.