Long Beach Truck Accident Lawyer
Any motor vehicle crash can be harrowing and seriously damaging for those involved but car accidents involving large trucks or tractor-trailers are particularly devastating. If you or a loved one was involved in a truck accident, speak with a qualified Long Beach truck accident lawyer at Harting Simkins & Ryan, LLP to learn more about the specific legal options pertaining to your accident case.
The U.S. Department of Transportation reports that thousands of Americans suffer serious injuries or die from truck accidents. It's vital for drivers in Southern California to understand the laws surrounding tractor-trailers and other trucks so victims of accidents have some idea of their legal options.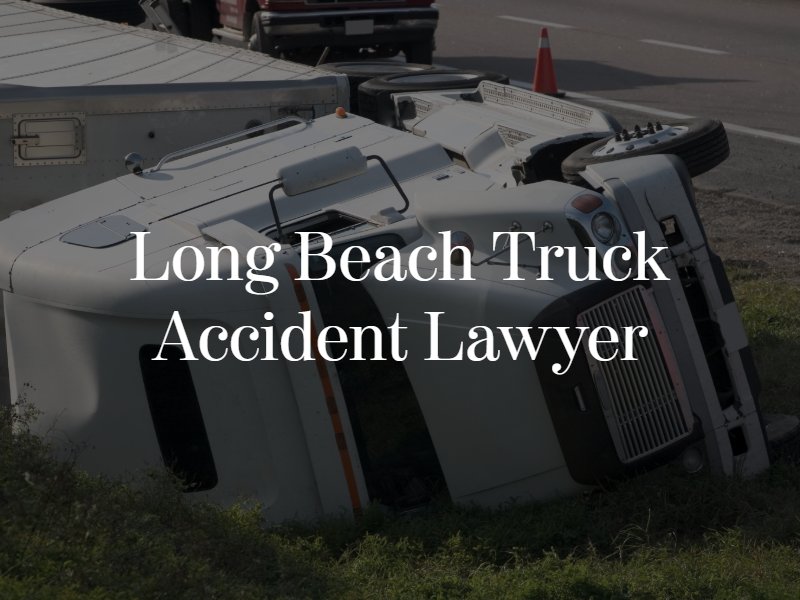 Content
Do I Need a Lawyer After a Truck Crash?
Many people mistakenly believe that they don't need legal representation if an injury case seems very straightforward and the odds seem to be in their favor. However, it's important to remember that the law is impartial, and successful lawsuits hinge on much more than simply stating your side of events. Without the proper legal training, plaintiffs are very likely to miss important deadlines for filing certain documents with the court and meeting other procedural requirements.
Attempting a truck accident lawsuit on your own, without legal counsel, may result in having your case thrown out before it even reaches trial. A Long Beach truck accident attorney will not only help you navigate the procedural issues surrounding your case but will also help establish the defendant's negligence. Additionally, a truck collision lawsuit may not have a clear defendant, or it may involve several. Your attorney will be able to assess the proper course of action after analyzing the facts of your injury case, and a good Long Beach truck accident lawyer will explore every possible avenue of compensation for your lawsuit. If you lost a loved one after a truck accident, an experienced wrongful death lawyer in Long Beach can guide you through the legal process of filing a wrongful death claim.
Compensation for Truck Accident Victims in Long Beach
One of the first questions we get from potential truck accident clients in Long Beach is, "How much could my claim be worth?" Compensation for accidents will vary on a case-by-case basis depending on the circumstances of the crash, extent of damages, insurance companies involved and many other factors. The only way to get an accurate idea of what your claim could be worth is in a consultation with one of our Long Beach truck accident attorneys. There are, however, specific types of compensation that remain the same:
Medical bills. Most truck accident claims will result in payment for current and future medical bills. These can include the costs of hospital stays, medical procedures, appointments, medications, medical treatments, and rehabilitative therapies.
Lost income. If you had to miss work because of your truck accident, or if a temporary or permanent disability interferes with your capacity to earn an income, you could recover for these losses.
Property damage. The intense forces an up to 80,000-pound big rig exert on smaller passenger cars almost always lead to completely totaling the latter. You could recover the costs to repair or replace your lost vehicle after a car accident.
Pain and suffering. Serious truck accidents can be very traumatic for survivors, especially if a victim sustains severe injuries, like spinal cord injuries. The California courts provide victims with the opportunity to seek recovery for non-economic losses, including physical pain, emotional suffering, and mental anguish.
For a more complete list of damages you could recover after a truck accident in Long Beach, speak with our legal team immediately following your accident.
Long Beach Truck Accident Liability
After a serious truck accident in Long Beach, one of the first questions on your mind should be liability. Commercial truck accidents always involve issues of liability amongst the truck driver, vehicle owner/operator, trucking company, other drivers, and/or other parties. Determining fault can be a complex matter that requires an in-depth investigation of the crash so speaking with a Long Beach personal injury attorney experienced in truck accident claims is important. It also involves the vicarious liability of the trucking company for its truck and drivers.
In the past, trucking companies managed to evade liability for most accidents. They did this by hiring independently contracted drivers (not employees) and leasing their fleet vehicles instead of owning them. Thanks to a federal rule change, the government no longer allows truck companies to escape liability. Now, a trucking company is vicariously liable for accidents involving its trucks and drivers, regardless of employment or ownership status.
A truck company could be liable if it contributed to the accident through some act of negligence, such as failing to train drivers, ignoring fleet maintenance, improperly loading cargo, or pressuring drivers to meet tight deadlines. It could also be accountable for a crash if it's driver was negligent. An intoxicated, distracted, or drowsy truck driver that caused an accident will almost always end in the liability of the trucking company. Other parties that could potentially take or share fault include third-party drivers, truck part manufacturers, and the City of Long Beach for an unreasonably hazardous roadway.
Truck Lane Restrictions in California
Due to the extraordinary number of large trucks operating in California, the state has enacted several truck lane restrictions or lanes in which commercial trucks cannot operate or must only operate. For example, in Los Angeles County, there is currently one lane with a "Trucks Only" sign. There are two such lanes in California that are some of the only lanes of their kind in the country. The one in Los Angeles County is northbound and southbound I-5 at the State Route 14 split. Black and white truck-only signs mean that it's mandatory for trucks to use the truck-only lanes.
Another lane restriction rule in California is that on highways with four or more lanes in each direction, trucks may only use the two right-hand lanes. On highways with three or fewer lanes, trucks must stick to the far-right lane. Keeping trucks in separate lanes from other vehicles reduces the risk of rear-end collisions and other accidents that arise from the heavier, slower-moving vehicles. Trucks also must obey lower maximum speed limits (55 miles per hour on highways) than other vehicles.
If a large commercial truck driver breaks one of California's lane restrictions or other truck-specific laws and causes an accident, the truck driver is guilty of negligence. Lane restrictions are in place for a reason – to protect drivers and passengers in smaller, more vulnerable vehicles. Ignoring traffic rules is a breach of duty, and could lead to liability for a subsequent collision.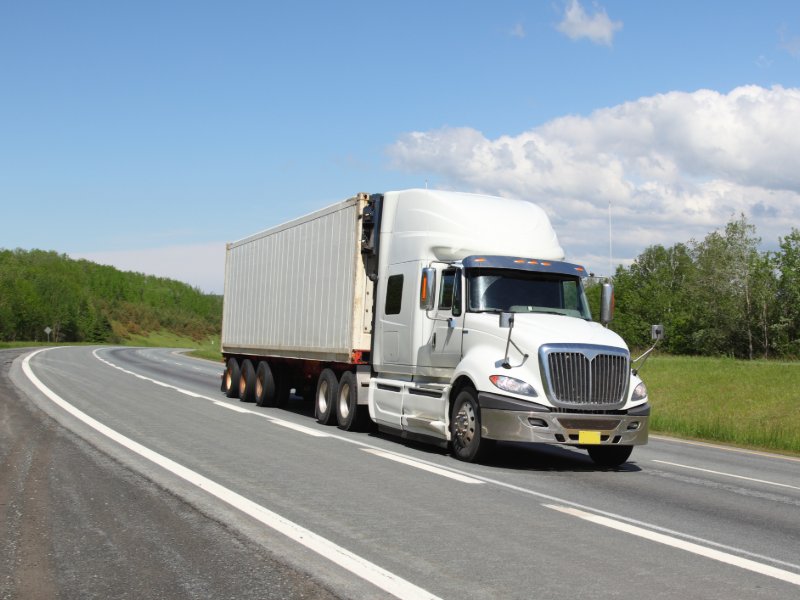 What Should I Do After a Truck Accident in Long Beach?
Your natural instincts will only carry you so far after a scary truck crash in California. You might naturally check yourself for injuries and call help for others, but would you think to take photographs of the accident, or to write down your police report number? Most people don't know what to do after a crash, and this leads to making mistakes that can hurt insurance claims. Follow these basic steps to protect your rights after a collision with a big rig in Long Beach:
Stay calm and remain at the scene.
Move to a safe location.
Find out if anyone has injuries.
Call 911 and report the crash.
Request an ambulance, if necessary.
Get the name and contact information of the truck driver.
Gather the names and info of any eyewitnesses.
Take photographs of both vehicles, the roadway, and other important details.
Tell your side of the story to police and get your official report number.
Go to the hospital to seek medical treatment for injuries.
Call your insurance company and report the incident.
Create a file with all of the facts of your truck accident case, as well as documents such as medical records and a copy of your police report.
Talk to a Long Beach truck accident lawyer about your right to seek damages.
When in doubt, take time to call a Long Beach accident attorney in the aftermath of a crash, directly after it happens. A conversation with a truck crash lawyer can help clear your head, sort your priorities, and stay calm, especially if you receive a call from an insurance adjuster. Harting Simkins & Ryan, LLP can tell you where to seek medical attention, what information to gather, and much more. Our law firm can help you start your claim on the right foot.
Common Causes of Truck Accidents
Tractor-trailers are a staple of the U.S. economy, moving trillions of pounds of goods across the country every year. Since tractor-trailers are primarily commercial vehicles and drivers act in the capacity of employees, commercial truck drivers must adhere to a higher standard of care than drivers of typical passenger cars. When an accident happens, it could be the fault of the driver, another motorist in the vicinity, or someone else entirely.
Truck drivers must not only follow the traffic laws, but also maintain situational awareness and be mindful of the size of their vehicles. A standard four-door sedan may only weigh a few thousand pounds at most, while a fully-loaded tractor trailer can weigh tens of thousands of pounds. Losing control of such a massive vehicle at high speed can spell doom for many people on the road, so truck drivers must exercise care while behind the wheel. The companies that hire and dispatch truck drivers on their routes must take care to ensure the drivers have completed all required training and vehicles meet all applicable regulations.
Some of the most common causes of trucking accidents our Long Beach truck accident attorneys have seen include:
Truck defects/defective maintenance. Trucking companies must ensure that their vehicles meet acceptable safety standards and that all maintenance follows approved guidelines. A poor maintenance check could leave a tractor trailer vulnerable to road hazards, potentially resulting in accidents.
Driver error/negligence. When truck drivers push themselves for too long without adequate rest, they are more likely to make mistakes while driving. Additionally, some truck drivers may use drugs or alcohol to combat road fatigue creating an extremely dangerous situation for other drivers.
Cargo. Many tractor-trailers carry thousands of pounds of cargo during each of their trips. Trucking companies must ensure that trailers' cargo will not throw the vehicle off-balance. Since tractor-trailers sit higher than other vehicles, unbalanced loads can cause trucks to tip over while making turns or after hitting bumps or road debris.
Third parties. Some drivers do not exercise appropriate caution around tractor-trailers, and dangerous maneuvers can create accidents with the vehicles and cargo. Large trucks are not as agile as other vehicles and require much more time and distance to stop or to avoid hazards.
Truck Crash Statistics (Updated For 2022)
Looking at the data around the country and closer to home can give you an idea of just how frequently negligence causes collisions, injuries, and wrongful deaths. It can also inspire you to take a stand against negligent truckers after an accident, in the hope of changing the industry for the better. Here are a few recent trucking accident facts and figures:
According to The National Highway Traffic Safety Administration (NHTSA) 2020 report, large-truck fatalities were down 1.3% compared to the 2019 findings
Light-truck occupant fatalities increased by 335, a 3.3-percent increase from 2019.

 Of the light-truck categories, SUV and pickup occupant fatalities increased by 348
(+7.4%) and 117 (+2.8%) from 2019, respectively.

According to a 2020 study by the Insurance Institute for Highway Safety, Highway Loss Data Institute,  10% of all motor vehicle crash deaths in 2020 occurred in large truck crashes.
Southern California is a hub of large trucking activity. As such, an alarming number of crashes involving big rigs occurs each year. Truck accidents are about more than just the numbers, but sometimes it helps to study the statistics of how often crashes occur, where they take place, and why they happen.
Contact a Long Beach Truck Accident Lawyer
At Harting Simkins & Ryan, LLP, we believe in holding negligent parties accountable for the damage they cause. If you've suffered an injury in a truck accident, it's important to connect with a reliable trucking accident attorney to handle your accident case and navigate you toward a successful outcome. Reach out to our law firm to schedule a free case evaluation about your trucking accident case, and we will let you know how we can help.